Event Registration Software
Automate, Monitor, & Manage Event Registration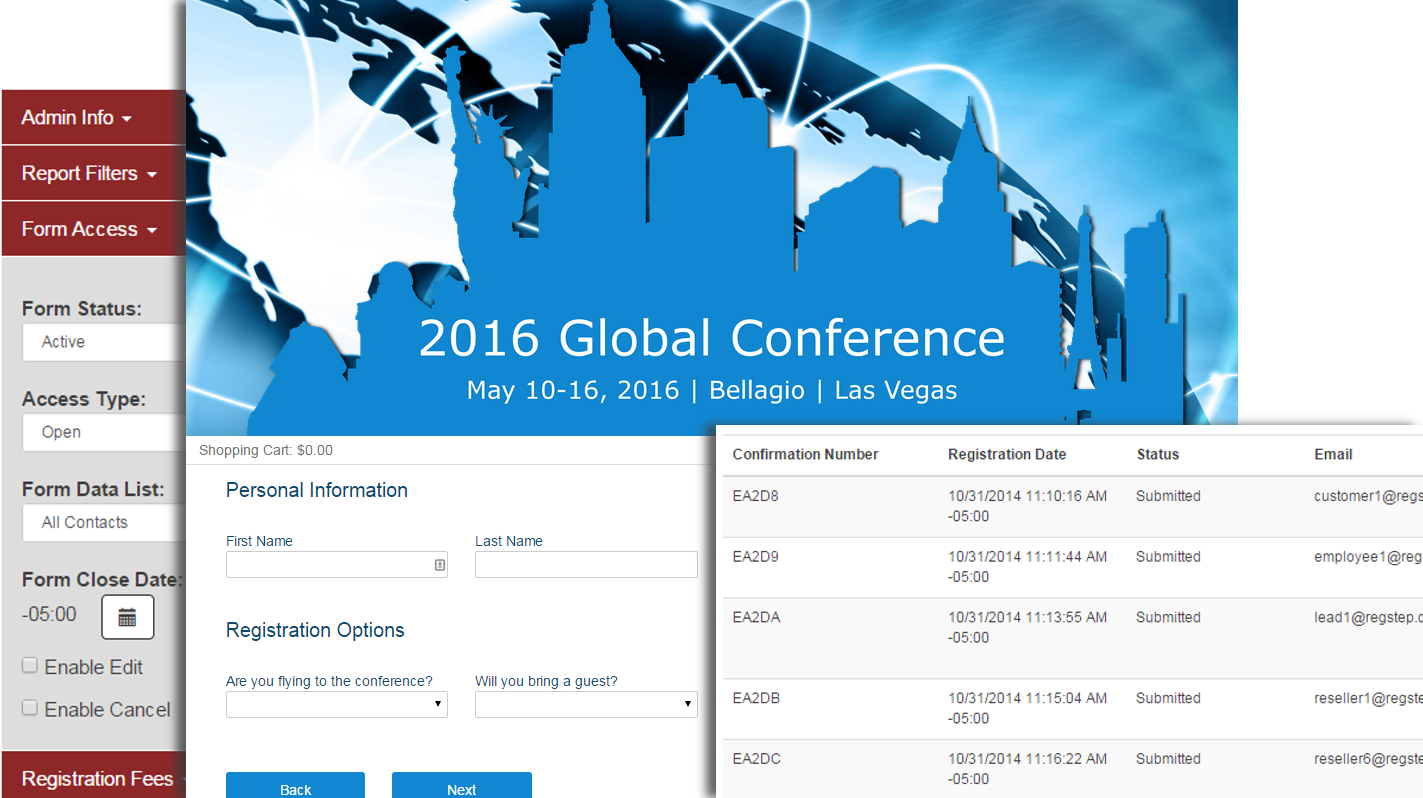 Automate your event registration process so you can focus on the attendee experience. Collect attendee data through mobile-friendly, complex registration forms with automated confirmations, invoices, and receipts. Implement tailored registration tracks, data validation, and capacity limits. Process payments through your payment gateway and track payment status for each registrant. Access detailed reporting to monitor attendance rates and manage event logistics.
Features
Custom Forms
Implement mobile-friendly, custom-branded, multi-track registration forms with automated confirmations, invoices, and receipts. Allow open or restricted registration, allow registrants to edit and/or cancel their registrations, and include all of the information and fields required for your event. All data is transmitted using industry standard encryption and stored on our PCI compliant server.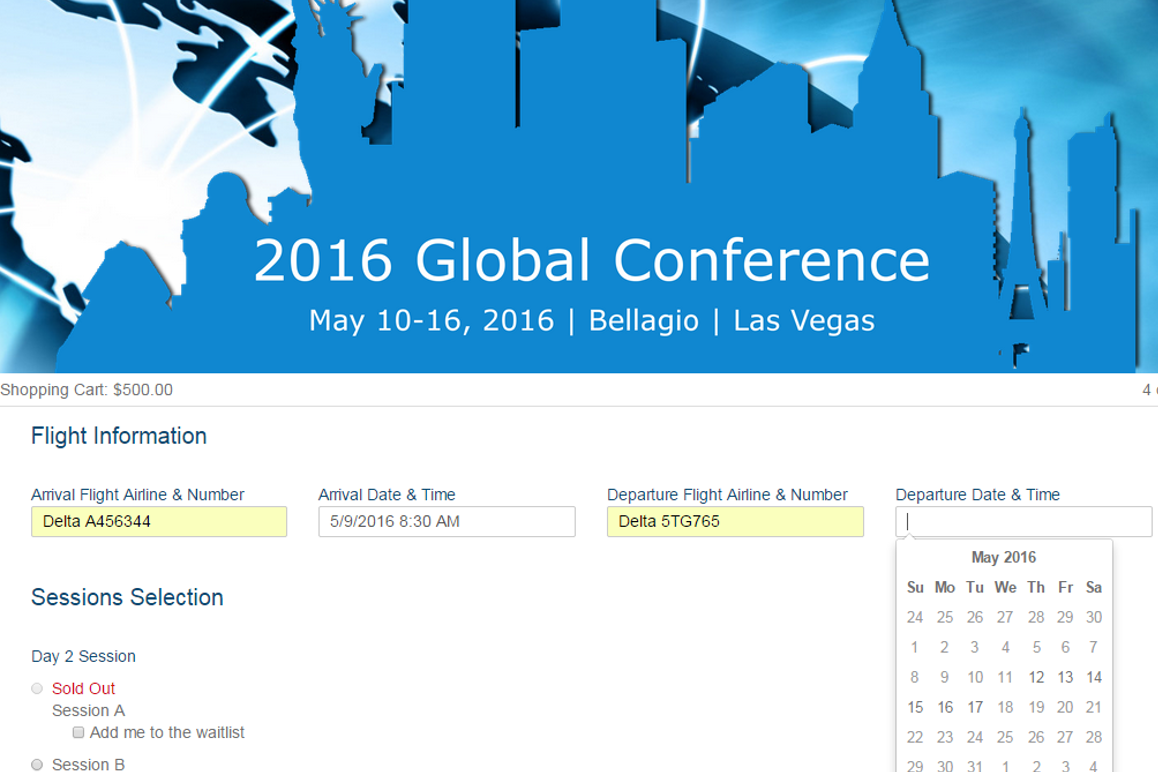 Select from a wide variety of branding options & field types.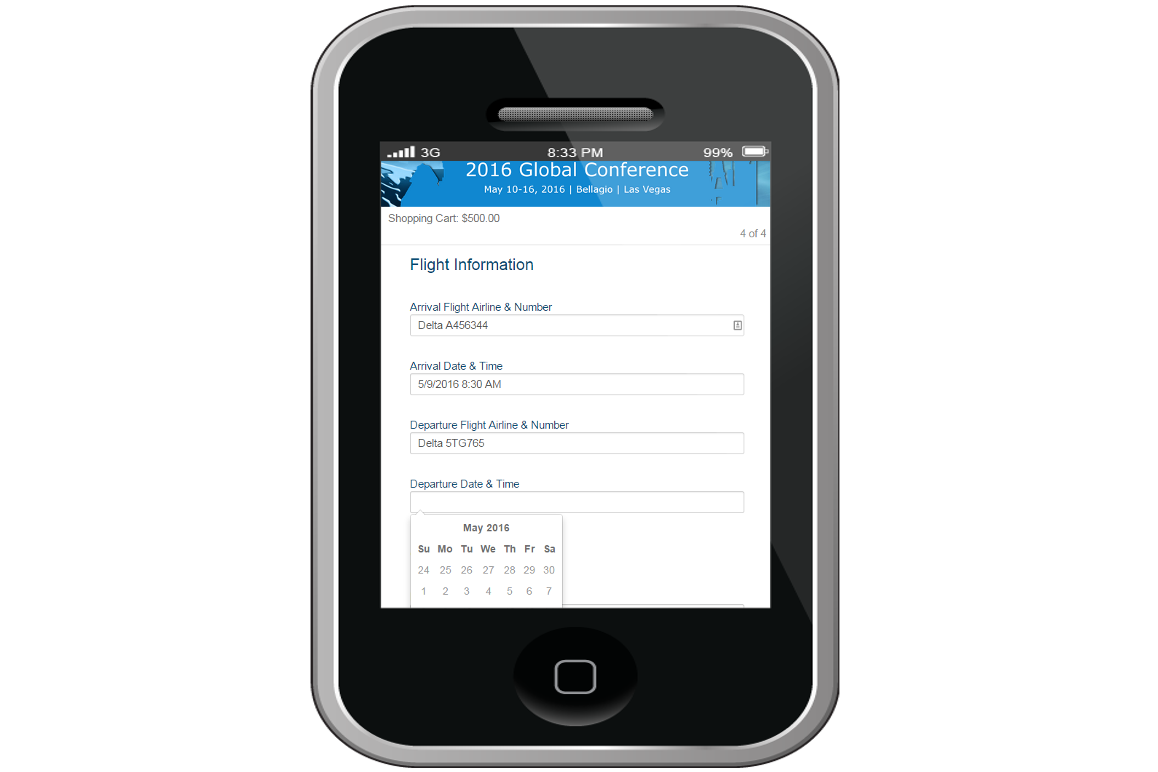 Allow registration on any device with mobile-friendly templates.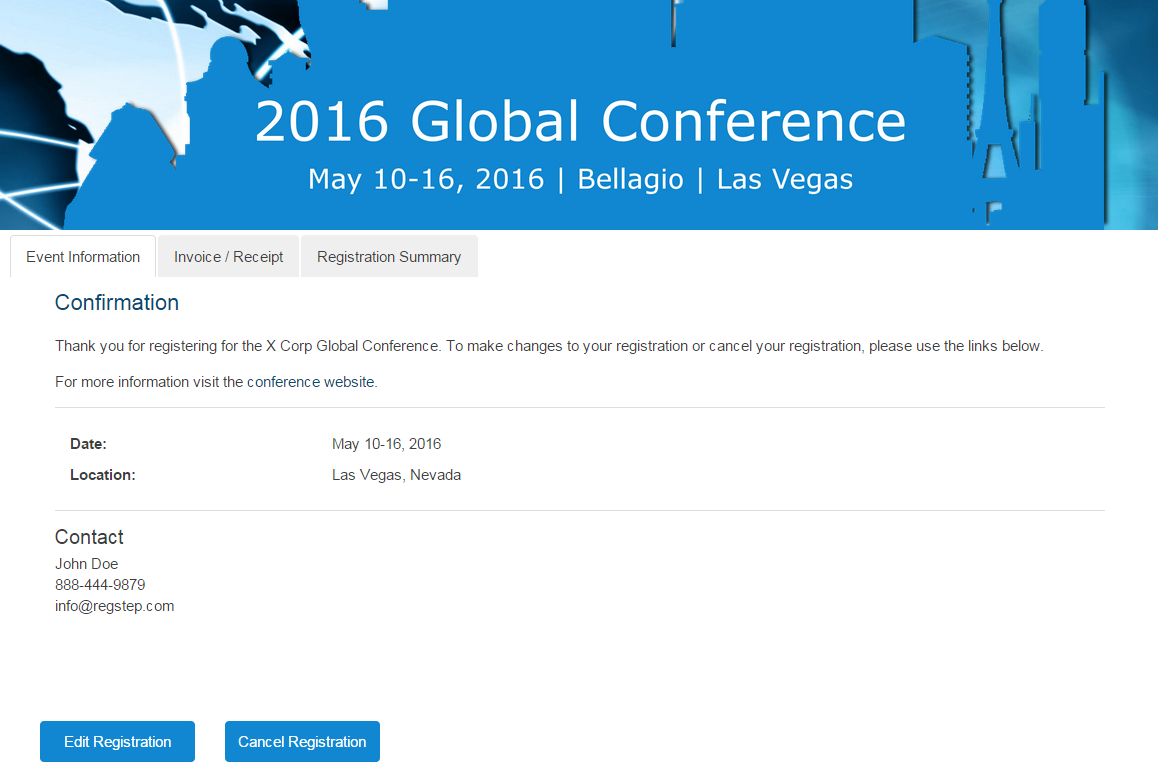 Provide event details, payment info, &amp registration summaries with confirmations.
Registration Data
Choose from a wide variety of form fields. Pre-populate registrant data with information from your Contact List. Make fields optional or required as needed and apply validation to ensure data is in the correct format. Enable RSVP and Audience selections for easy collection of attendance and registration type information. Create custom registration tracks for each user. Apply capacity limits to selections with limited quantities and enable waitlists for your most popular selections.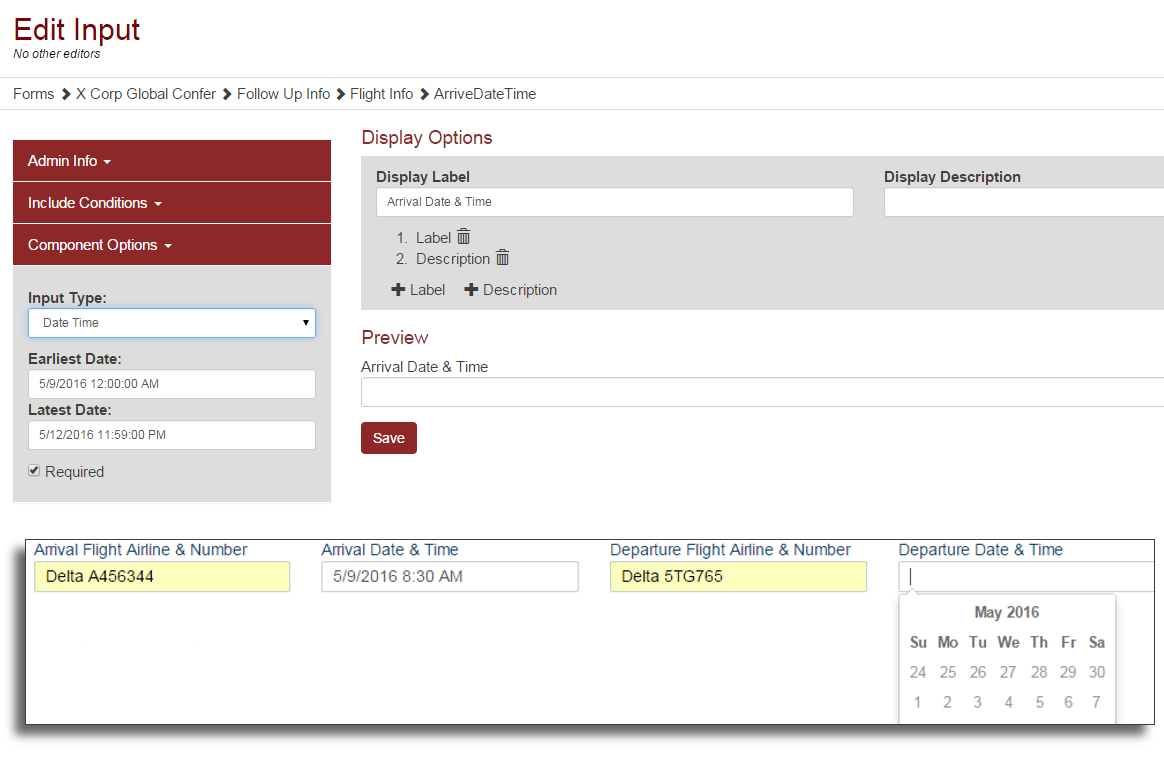 Select different input types & apply formatting, limits, & other conditions.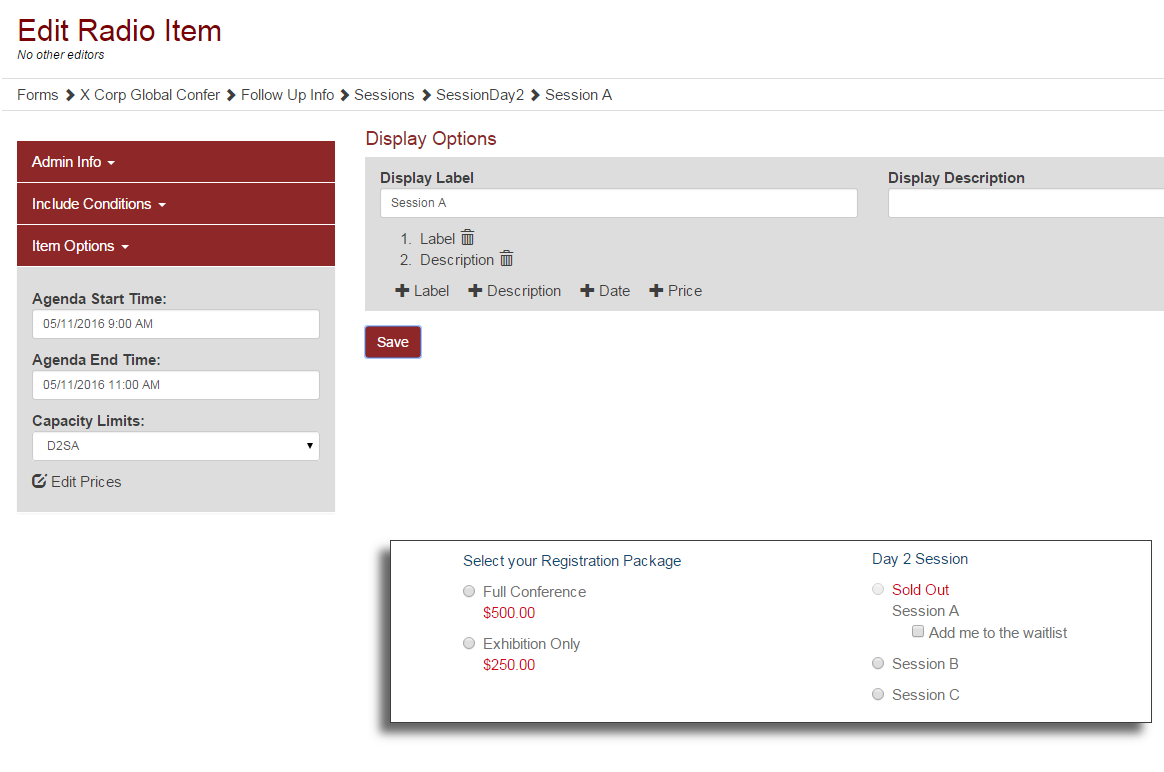 Assign prices & capacity limits for your sessions.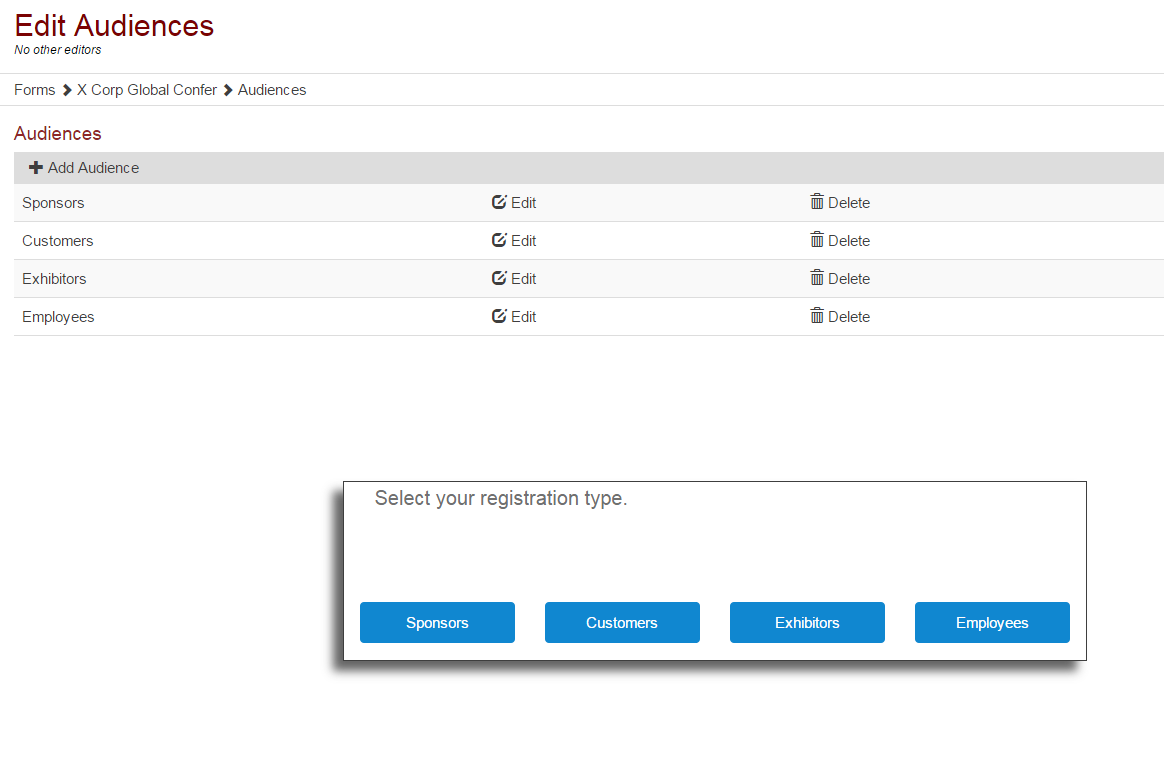 Create multiple registration types & designate prices & tracks for each type.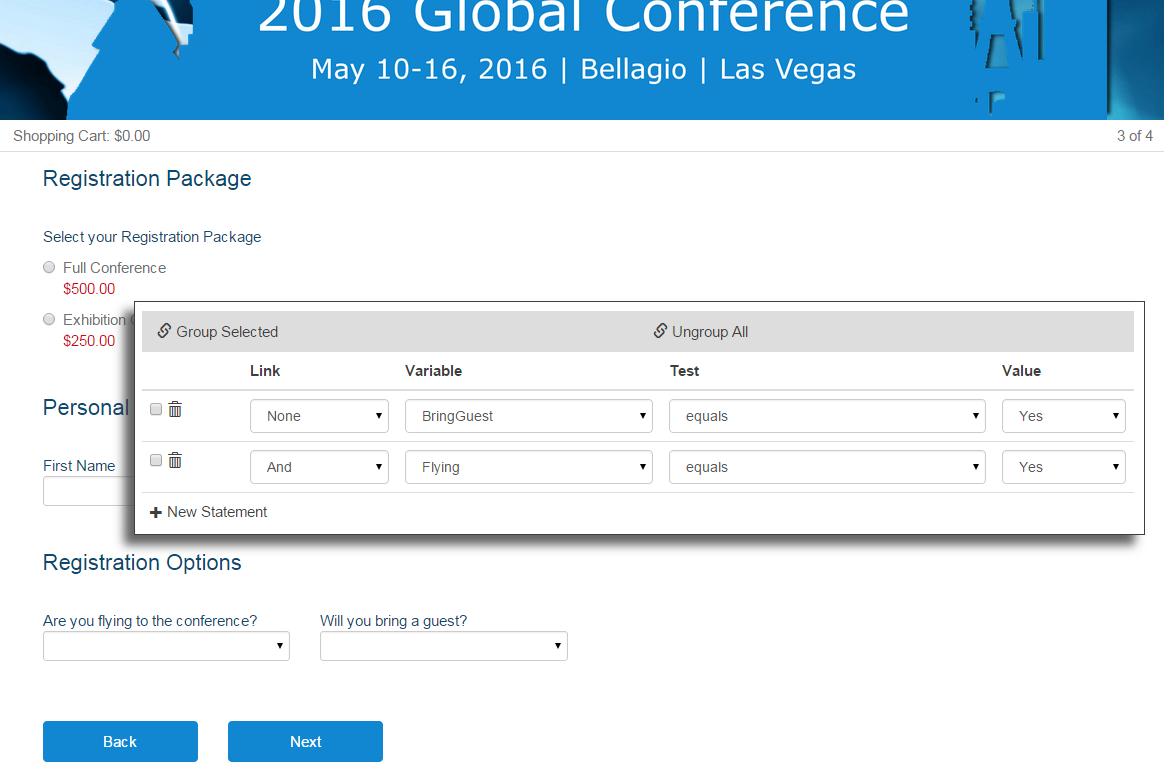 Design tailored registration tracks using custom logic.
Registration Fees
Assign prices to the entire form and/or individual selections. Set automated price increase schedules to create "early-bird" registration incentives. Assign specific prices to each registration type. Enable promotion codes for discounts and add tax and VAT percentages to totals. Accept credit card payments to process fees immediately through your payment gateway or allow registrants to select Bill Me to pay later.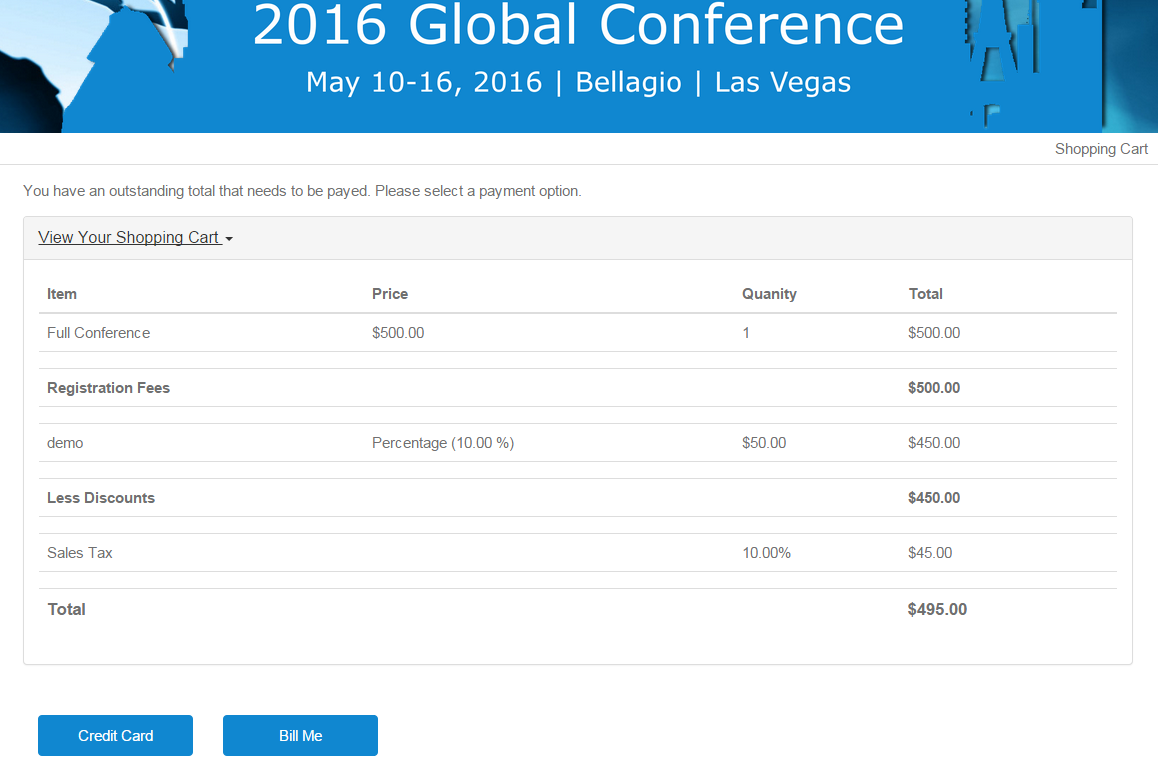 Choose from a variety of fee, discount, & payment options.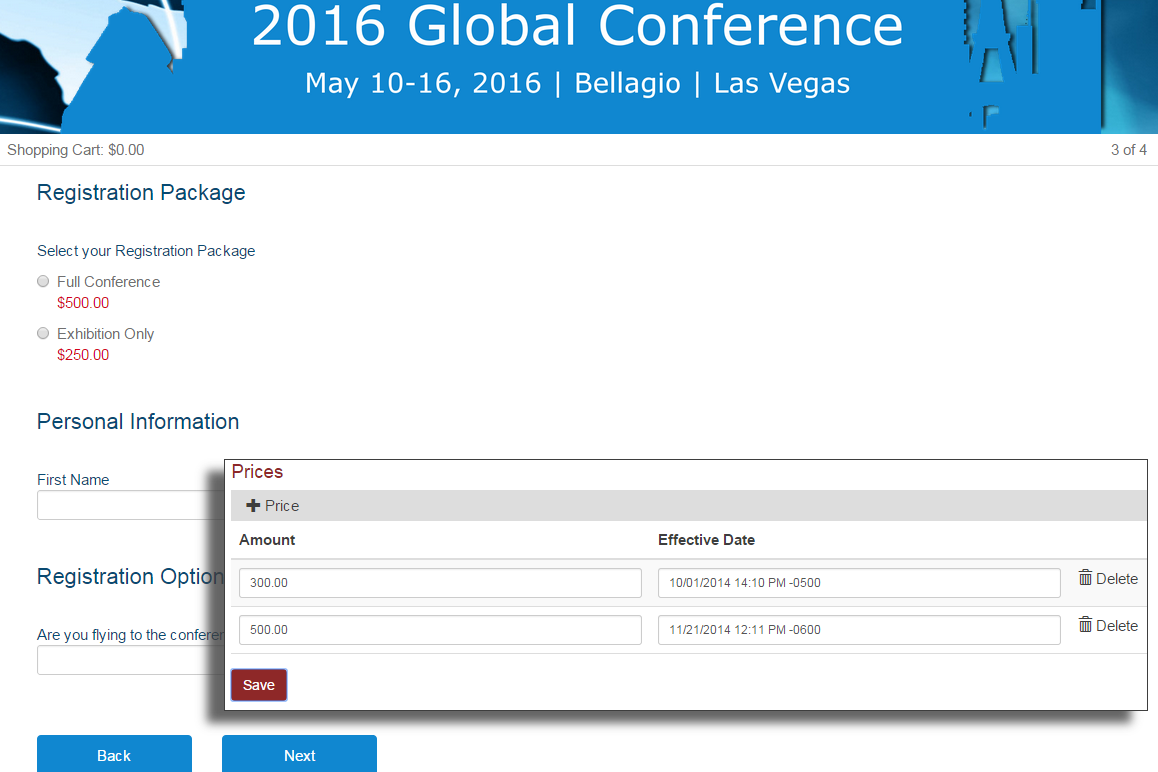 Assign prices based on registration type & date registered.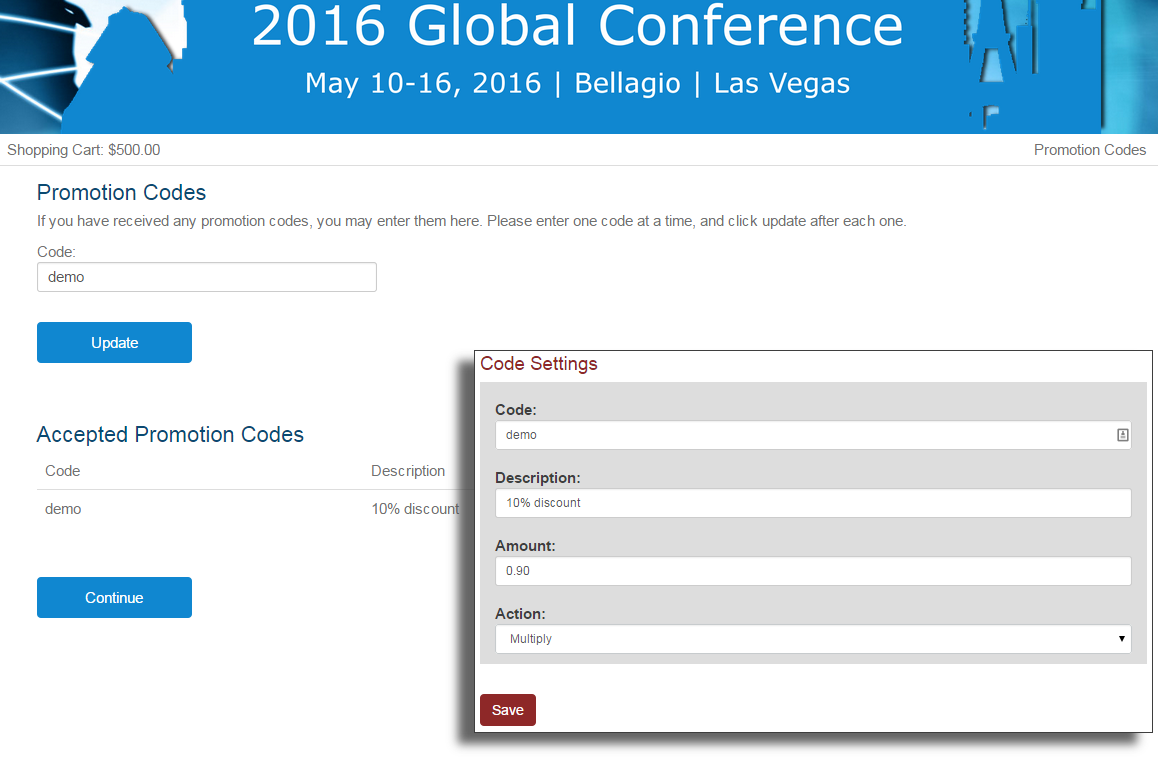 Create promotion codes for percentage or flat amount discounts.
Registration Reporting
Access a collection of standard registrations reports including registrations by status and balance. Monitor detailed financial summaries. Create an unlimited number of custom reports by selecting the fields and filters for each report. Share reports with other stakeholders. For each registration record, manage edits and cancellations, payments and refunds, waitlist status, and send event emails and view email delivery history.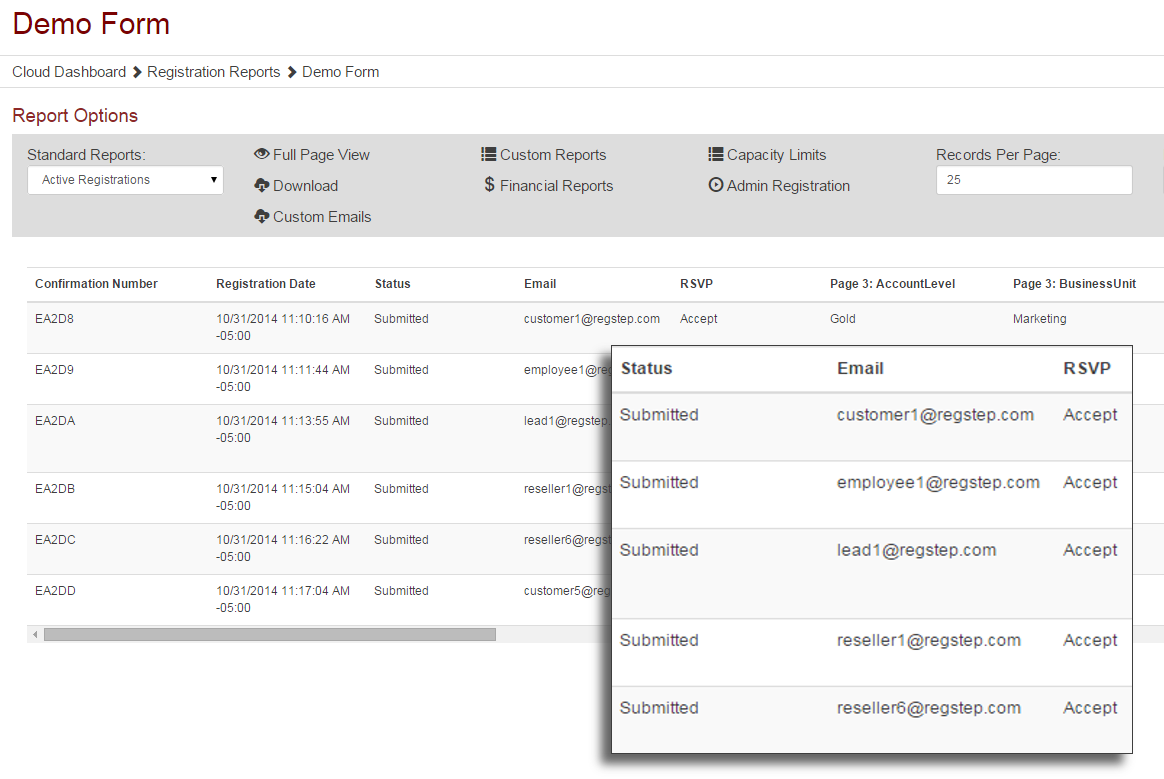 Access all of your registrant data via standard reports.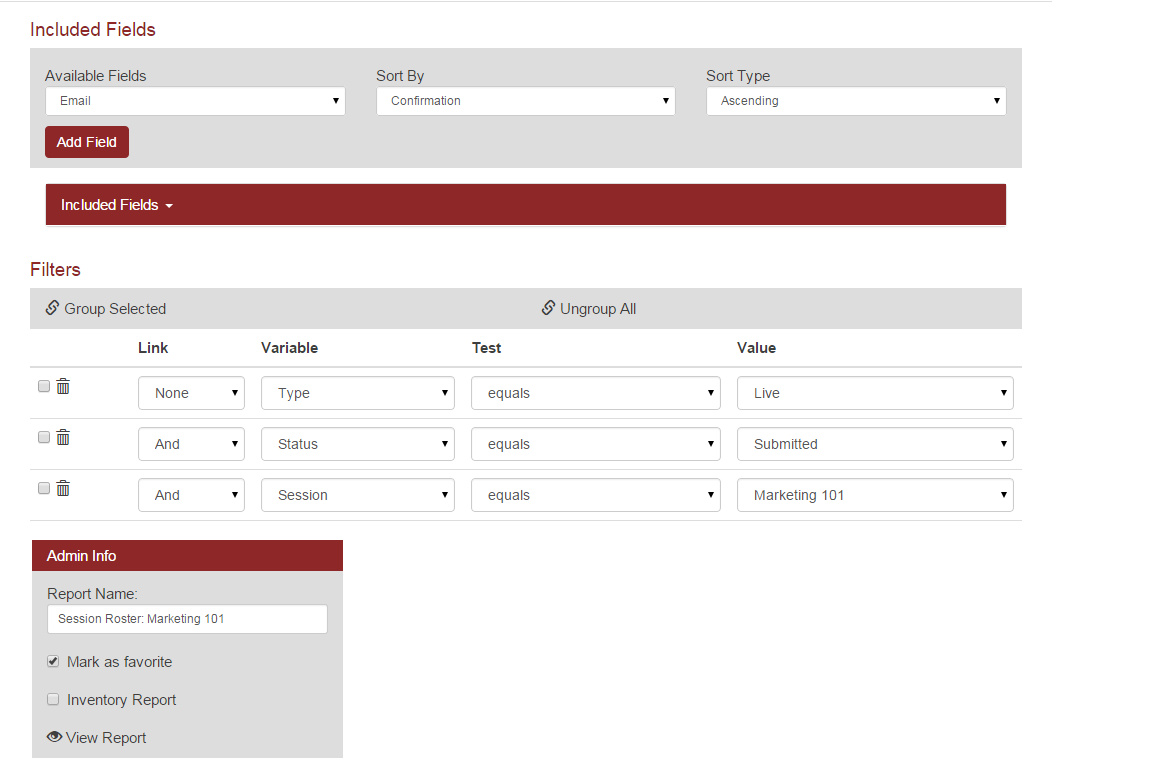 Create custom roster & inventory reports.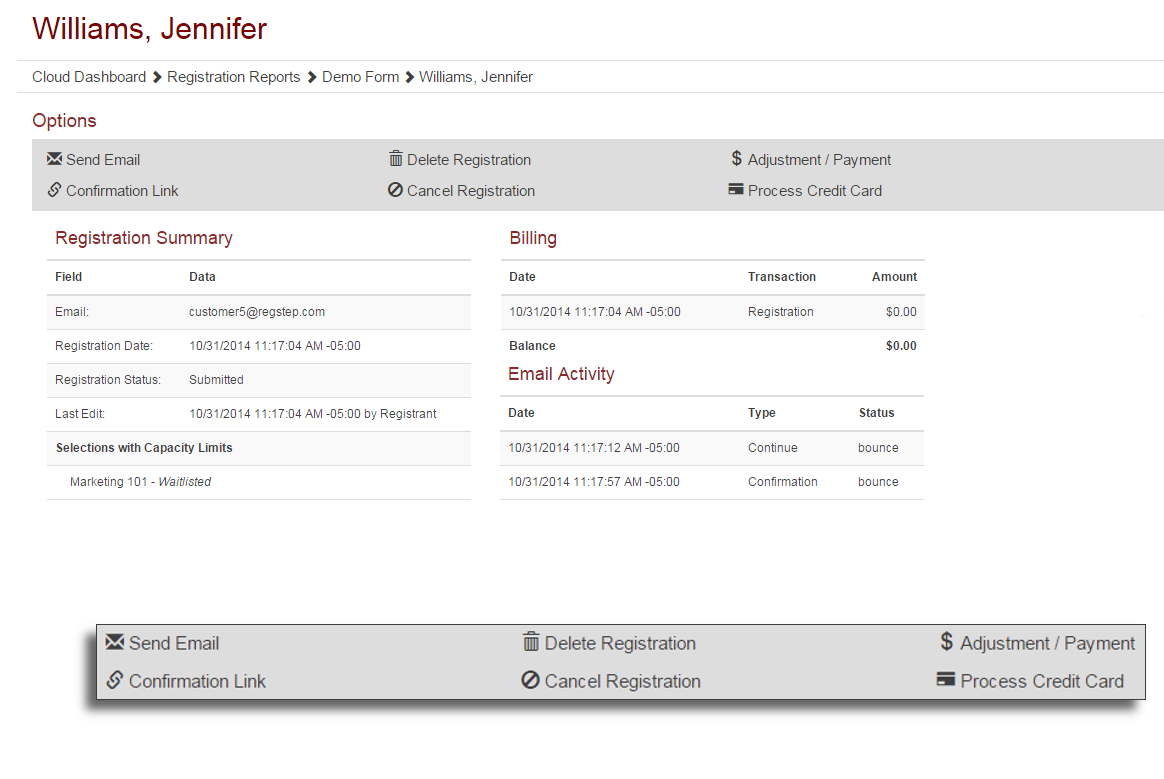 Manage registrant status, payments, communications, & waitlists.